GEA INSTRUCTORS
Gene & Sandy Miller
Gene and Sandy Miller of Deadwood, SD have been training horses and coaching for 30 years. They have coached and trained 8 world champions in the field of Little Britches, High School and College Rodeo. They have successfully trained calf roping, breakaway roping, goat tying, team roping, barrel racing and pole bending horses. Through our methods of training you learn to be one with your horse. We can teach you how to successfully train at the competitive level. We call our teaching "cowboy dressage". We use many of the same techniques that are used in high level dressage. Through proper use of your hands, body, legs and feet, you will be given the opportunity to change your riding habits.
Gene has a B.S. in Animal Science from Colorado State University, in Fort Collins, Colorado, a vocational teaching certificate and a post-secondary teaching certificate. He taught Vocational Agriculture in Colorado and Nebraska for 22 years and had many state champions in FFA in livestock judging and one National Horse Proficiency winner. He has taught for the past 5 years at the college level teaching Equine Management and Ranch Management. He was named to Who's Who in American Educators as well as being Ag. Teacher of the Year. Gene served as President of the Arthur Co., Nebraska Board of Education. Gene's experience in the teaching field makes him one of the most outstanding instructors in the field, as well as caring for the students and making sure they understand what is being taught. He has trained some of the top professional calf roping and team roping horses. Gene still competes as time allows.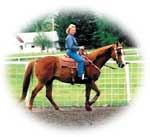 Sandy has studied dressage techniques and learned how to apply those techniques to western riding. She has trained several world champion barrel and pole horses as well as coaching students to be competitive. Sandy has spent her entire life riding by feel, learning "to dance" with horses and is very natural. Sandy served as County Commissioner in Arthur County Nebraska and was Chairman of the Board. Sandy has been co-teaching with Gene on the college level.
Gene and Sandy have raised two very successful children.
Tee Jay is married to Mike Henderson, and they have two children, Logan & Erica. They ranch in the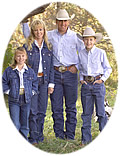 Sandhills of Nebraska. Mike and Tee Jay have their own very successful horse sale at the ranch every two years. (See WESTERN HORSEMAN, July 1999 for a featured article on the Dry Box Performance Horse operation or visit their website at www.drybox.com). Their horses have become very well recognized across the United States. Tee Jay was the recipient of the 1988 National FFA Horse Proficiency award. She toured European horse breeding operations and equine facilities. Tee Jay served as the National High School Rodeo Association secretary. As a member of NHSRA she was a very strong competitor in all events. Mike and Tee Jay have two children, Logan and Erica. Mike and Tee Jay rodeo in the Badlands Circuit of the Pro Rodeo Association. Mike has consistently made the short round at Cheyenne Frontier Days and has placed, riding a horse they have raised and trained on the ranch. Mike won the average in the calf roping at the Badlands Circuit Finals in 2003 and will travel to Pocatello, Idaho in 2004 for the national circuit finals.
Chad Miller, his wife Ali, and daughters Jayda and Carlee ranch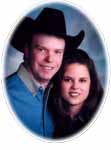 near Bowman, North Dakota. Chad and Ali both graduated from National American University in Rapid City, South Dakota. Chad managed the NAU Equine Center before moving to North Dakota to ranch. Chad served as National High School Rodeo Vice President and President. He has won 25 saddles in calf roping, all around title and holds 5 world champion titles in roping. Ali trains her barrel horses and competes in the circuit rodeos. Chad will be assisting us with teaching calf roping and is available to train calf roping horses. He is an outstanding motivator and teacher and is available for private lessons and clinics. Chad is among the top 12 calf ropers in the Badlands Circuit of the Pro Rodeo Cowboys Association.